Sarah, Plain and Tall
Written by Patricia MacLachlan
Reviewed by Zoe M. (age 9)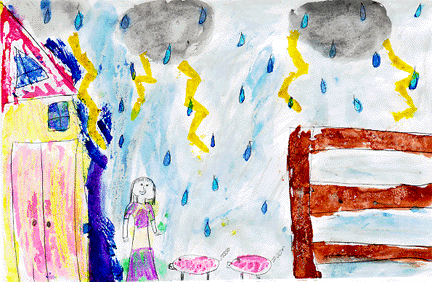 This is a realistic fiction book written for children. Anna and Caleb's dad, Jacob, put an ad in the newspaper for a new wife. A lady named Sarah writes to the whole family 'cause she wants to try to come to see if she can be the kids' mother. When she comes, she tries her best to be a good mother, even though she misses the ocean, her brother, and the sand dunes. She tells Jacob. On a rainy day, everyone was outside when it started to storm. Sarah tried to get the children, the animals and Jacob in the barn, when she did Jacob built a hay dune so Sarah didn't miss the sand dunes. If you read the book you will see what happens.
This story takes place on a farm, in a prairie, in the U.S.A. This story starts at the end of spring and goes through the beginning of summer. It most probably takes place in the 1800's.
I would recommend it to others because it was like a real life experience. It was exciting to read. Once you picked it up you wouldn't want to put it down. Someone who likes things that happened a while ago would probably like this book. It was well written. The author wrote it in the past tense so it sounded like it already happened.