My First Pony
Written by Tessa Krailing
Illustrated by Neil Reed
Reviewed by Imogen W. (age 7)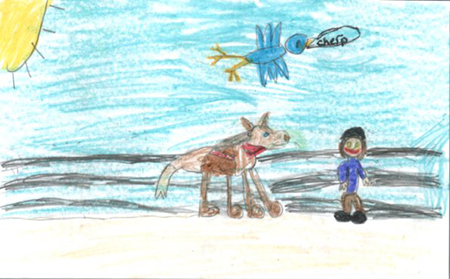 My First Pony is about a kid's first time out in the country. He sees a pony and pets him. A girl comes and says, "Hey, that's my pony." There are a few characters in the book. It's a really good book for kids because a lot of people like horseback riding. There are two ponies named Simpson and Misty. The kid wants some riding lessons, but his mom says it costs way too much money. So, the kid wants to save up. The next day he comes and pets the pony again. Read the rest of the book to find out if he really does take riding lessons.
My First Pony is an amazing book to read. My favorite character is the boy. This book reminds me of when I had horseback riding lessons in Arizona. I liked the book because I really like ponies and horses. I really like the illustrations because they almost look like picture graphs. The pictures are in gray and white except for the cover. My favorite part is when the girl comes up to the boy and starts being friends with him. I liked that part because I like seeing people that just met becoming friends.
I recommend this book for first graders and up. I also recommend it for people who like horseback riding, people that like pony back riding, and people that are interested in horse books.