Stacey's Ex-Best Friend
Written by Ann M. Martin
Reviewed by Alia B. (age 10)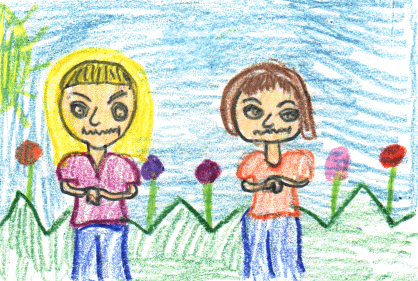 "Okay, can't wait!" Stacey McGill has just gotten off the phone with her best-friend Laine. Stacey just moved from New York to Connecticut so she needs the companionship to cheer her up about her move. Stacey invites Laine over to spend the night for a week, and plans a fun-filled schedule. She plans for the two of them to go to their junior high school Valentine's Day dance, stay-up late, call boys, and so much more. Then, once Laine arrives everything turns out all wrong! Laine brags about her hot-shot-jock boyfriend, King. She laughs and pokes fun at other people's fashion sense, yells and says rude comments to Stacey's friends, and treats Stacey as if she doesn't exist! When the two girls finally arrive at the dance, they get into an argument and change from best-friends forever to best-friends for never!
My favorite part of the story is when Stacey and Laine begin to not get along. It reminds me of when my friend Candice and I had a disagreement. My least favorite part of the book is when Laine brags about her boyfriend to Stacey and her friends. It made me think about the time when a classmate of mine brought a toy to school and bragged about it to all us kids. I like the character Stacey best of all because she wasn't afraid to step up and tell Laine to be quiet, or tell her she is being mean. She reminds me of me! This book was so interesting I didn't want to stop reading it, and I made lots of connections with the characters in the story.
I think girls would really like this book becuase of the topics that are brought up by the characters and situations they find themselves in. The reader gets an idea of what it is like losing a friend, which can be a sad and hurtful time. At times this book made me laugh, reading about the things the girls say about each other. The author has done a great job of writing because she makes the reader feel that he or she is actually in the story. I didn't think I was going to like this book at first, but the more I read I realized that I was starting to enjoy it.