The Chronicles of Star Wars
Written by George Lucas
Reviewed by Everett T. (age 9)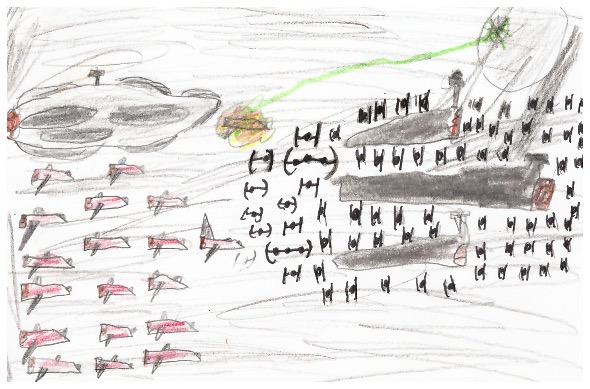 Did you know you could read three Star Wars episodes in one book? If you like Star Wars, you should read The Chronicles of Star Wars by George Lucas.
First in episode four, you learn about Luke Skywalker the farm boy, Han Solo the smuggler, and Princes Leia the rebellion leader. You also learn about the Death Star which is a huge ship. Then in episode five, you read about the secret base of the rebellion and the whole truth about Darth Vader. This is also the time when the plot to destroy Luke Skywalker and Yoda's secret home is revealed. Lastly, episode six is all about the second death star, and the plot to destroy the rebellion that has still survived. Han Solo has to be saved and the goal is to bring back Darth Vader back to the light side.
In addition, my favorite part was when the rebel fleet attacked the second death star. I liked this part because it was very exciting and had the most action of all of the episodes. Also I felt anxious during this book. I felt anxious when there were battles because I never knew who was going to come out and survive. Finally, my favorite character was Luke Skywalker. He was my favorite character because he was a Jedi and that means he was a good character.
In conclusion, I recommend this book to people who like Star Wars, whether they have seen the movies or not. I think this book was very exciting and will keep you on the edge of your seat!