Kizzy Ann Stamps
Written by Jeri Watts
Reviewed by Hanna V. (age 9)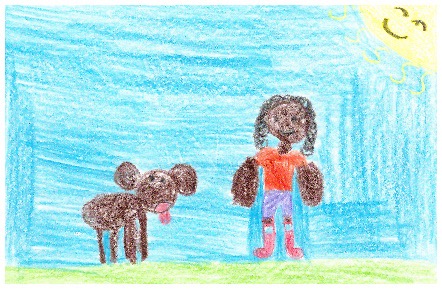 "GET THE DOG!!" Kizzy Ann has many adventures during her life. To learn more, find the book Kizzy Ann Stamps by Jeri Watts.
To begin with, one day Kizzy Ann and Shag went to the woods to round up kindling, but it didn't end up so well and she got hurt. Kizzy Ann has a scar that runs through the tip of her right eye to the corner of her smile. She soon finds out that her class is now going to the school for white people, and people there stare at her scar. Kizzy Ann and her dog Shag are at home always writing letters to Ms. Anderson. This is Kizzy Ann's teacher at her new school. Kizzy writes things that happens in her life and it helps her to feel better because she can tell her true feelings. Her brother has a harder time at their new school. Kizzy decides to enter Shag into the dog trials and learns a lot about her new way of life.
In addition, my favorite characters are Kizzy Ann and her dog Shag. They are my favorite characters because they treat each other nicely and Shag protects Kizzy Ann. This book is amazing and I loved reading it! I liked this book because of Kizzy Ann's story of her life which was a lot harder than girls my age now. My favorite part was when Kizzy Ann tells about how she got her scar. It was scary, but she was brave and survived through the accident.
In conclusion, this book should be read by kids ages 9 and up. To read more, go to your library and check out this book.