Dork Diaries: Tales from a Not-So-Happily Ever After
Written by Rachel Renee Russell
Reviewed by Sheila F. (age 9)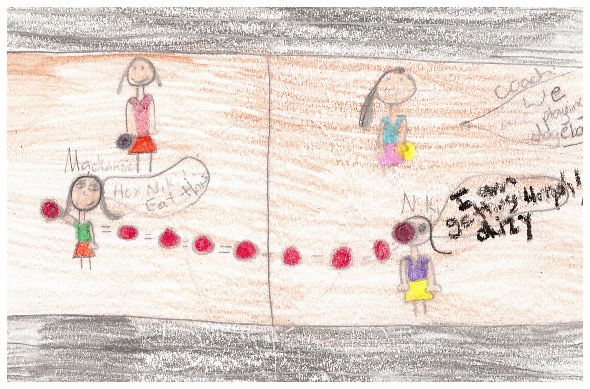 Bippity bobbety … BAM!!! Join Nikki in a mixed up wonderland as you read Dork Diaries: Tales from a NOT-SO-Happily Ever After, written and illustrated by Rachel Renee Russell.
To begin with, Nikki woke up screaming because she was going to be late for school. She got ready quickly and ran downstairs. Her sister had made a sloppy sandwich and ruined Nikki's clothes. She had to go to school like that. When she got to school, mean Mackenzie came along and started talking. A couple hours later Mackenzie and Nikki had PE. When they got to PE, they started to play dodge ball. When Mackenzie picked up a dodge ball, she slammed it at Nikki's face! Nikki got very dizzy and all of sudden she ended up in a different, magical world. She met some strange little creatures and characters. She gets trapped in a dungeon by the nasty Heart Queen. She has to escape and find how to get home!
In addition, my favorite part was when Nikki pulled off the big bad wolf's tail by accident. I like this part because after Nikki pulled the big bad wolf's tail off, he walked outside in a granny gown with a matching bonnet and he was holding he tail at the same time. Rapunzel reminded me of myself. She reminded me of myself because when she said every day is a bad hair day it made me remember of how in the mornings I always wake up and fuss about how my hair is a mess. It is so annoying. This book is part of a series. I think that these books are really funny with the main character, Nikki in them. I think this because I love laughing and reading crazy things, and she really makes me do that. I really love reading this series.
In conclusion, I think this book would be perfect for ages 8-10. Also if you like drama then head on down to your local library and check out the Dork Diaries series and make sure to look for Dork Diaries: Tales from a NOT-SO-Happily Ever After.