Charlie and the Chocolate Factory
Written by Roald Dahl
Illustrated by Quintin Blake
Reviewed by Sheila F. (age 9)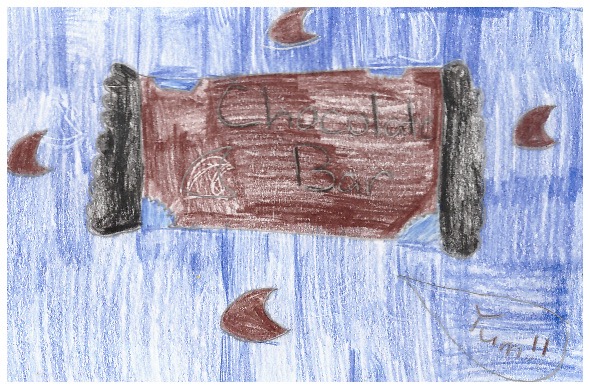 I LOVE CHOCOLATE!!!! Join Charlie as he explores the greatness of Mr. Willy Wonka's chocolate factory as you read Charlie and the Chocolate Factory, written by Roald Dahl.
To begin with, a little boy named Charlie and his family were very poor. His dad was the only person in the family who had a job. A couple weeks later it said on the newspaper that Mr. Willy Wonka (the candy-making genius) put five golden tickets in candy bars. The five people get to go inside his factory and discover his secrets. A couple weeks' later 4 tickets had been found. Finally, Charlie was the one to find the 5th ticket! He decided to bring his Grandfather with him to the chocolate factory. When they were there, they got to eat mixed bubblegum which made one girl turn into a blueberry. Also, another character Veruca Salt tried to take a squirrel and she got caught and was thrown down the garbage chute! Charlie and his Grandfather had many other strange happenings while there!
In addition, my favorite part was when three of Charlie's grandparents started screaming in horror when they were in the rocket. This was my favorite part because Charlie had to calm them down and then they started talking about food. A character that I found interesting was Mr. Wonka. I found him interesting because every time when one kid was bad, he would do nothing and let bad things happen to them. He would always be so calm. A character that reminds me of myself is Veruca Salt because when she wanted to have one of the squirrels she wasn't going to stop until she had one and sometimes that's what I'd do. When I want something really bad I usually won't stop until I get it.
In conclusion, this book is great for kids ages 8-10. If you are like chocolate and other kinds of candy, you will like this book even more!!