Mercy Watson Goes for a Ride
Written by Kate DiCamillo
Illustrated by Chris Van Dusen
Reviewed by Nicholas M. (age 8)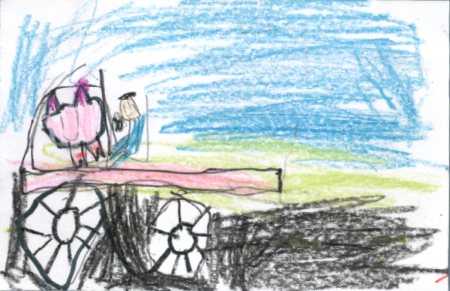 In the beginning of the book, Mercy Watson goes for a Ride, Mercy eats breakfast. Mr. Watson and Mercy go into the car for a drive. Mercy jumps on Mr. Watson's lap while he was driving and drives even fast than Mr. Watson. All of a sudden, Baby, the next door neighbor, pops out of the back seat of the car demanding they stop right away. Then, a police officer sees this and can't believe the pig was driving. Next, he follows them with his lights and sirens but Mercy keeps driving. Finally, the officer pulls next to them and demands they pull over. Because Mercy was on top of Mr. Watson, he could not move his foot off of the pedal. They need to come up with a plan to stop the car. In the end, Mercy enjoys some toast with butter, her favorite thing to eat!
In my opinion, I think the character Mercy is funny. She has funny and silly human traits like she loves to eat toast! I think that this book is a funny book because it is the only series I've read where a pig drives a car. This book is an adventure and always keeps my interest and makes me laugh. For example, when the car stopped short, Mercy went flying into a bush. Mr. and Mrs. Watson love Mercy so much and were worried about her like she is their child.
I recommend this book to anyone who likes to laugh. I think anyone who is 5 or older would like it. I rate this book 5 stars.