A Snicker of Magic
Written by Natalie Lloyd
Reviewed by McCauley R. (age 8)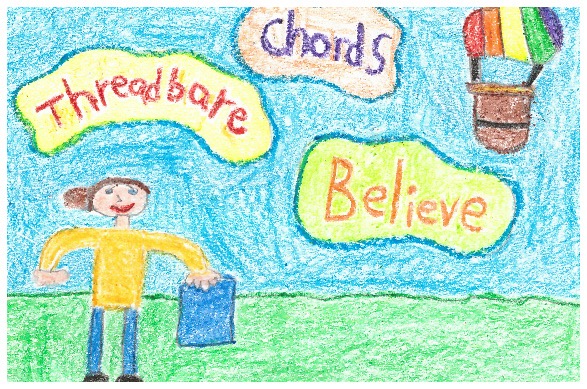 What if you could see words? Words written in the stars or words dancing above someone's head? That's just what Felicity Pickle can do in "A Snicker of Magic", by Natalie Lloyd.
Felicity is only in the 6th grade and she has already lived in 6 different states! Her mama never wants to stay in one place for very long. When you're always moving around it's hard to make friends and no place ever feels like home. That all starts to change when the Pickles arrive in Midnight Gulch, Tennessee. Midnight Gulch used to be a magical town where magical things happened. At least it used to be a magical town before a witch's curse drove the magic away. Still, Felicity has a feeling this town is different than all the other places she's lived. She is happy here and she finally has a friend! So, when mama wants to move again, Felicity knows she has to find a way to change her mind. Maybe there's a little magic left in this town after all! Felicity just has to figure out how to bring it back, and if she does, she might finally have a place to call home.
I did not enjoy this book as much as I have some other books. I like books about adventure, exploring, and books that are funny. Also, there are so many characters that it got a little confusing and I couldn't remember who was doing what. I did like the character Jonah because he was always doing secret things to make people happy. He was a good friend to Felicity and helped her try to bring the magic back. Finally, when Felicity went to her new school for the first time it made me think about when I moved here from another state and I was scared to go to school. I was nervous to meet the other kids, but I ended up meeting some great friends, just like Felicity.
Even though this book wasn't one of my favorites, I would still recommend this book to anyone who likes stories about fantasy and magic.