White Fur Flying
Written by Patricia MacLachlan
Reviewed by Jackson R. (age 9)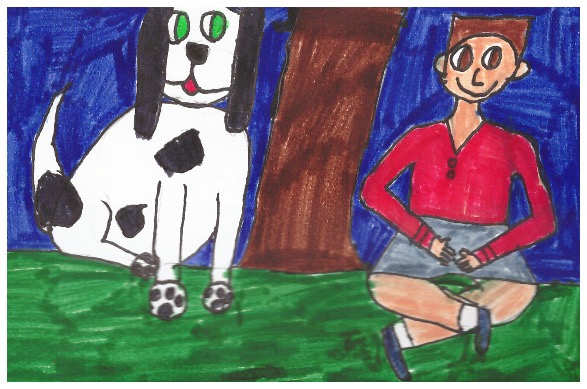 I triple dog dare you to read White Fur Flying by Patricia MacLachlan!
This story is about two families that are very different. Zoe and her Mom, Dad, and Sister are fun and loud. They rescue Great Pyrenees dogs that need homes. Zoe's new neighbors have no kids or pets and are boring and quiet. But now they are taking care of their great nephew, Phillip, while his parents are working out a problem. Phillip has stopped speaking to everyone. Phillip's great aunt and uncle don't know what to do. Phillip really needs a friend. Maybe Zoe and the dogs can help Phillip to find his voice.
My favorite part of the story is when Zoe sets out to find her dog, Jack and Phillip in a hailstorm. This was my favorite part because there was a lot of danger and it was very exciting! I didn't know if everything was going to be ok. This part of the story had lots of suspense. I also liked reading this story because I like books about animals. The Great Pyrenees dogs in this story are very lovable. It made me really miss having my own dog. One unique thing about this book is the author's note at the end of the story. Patricia MacLachlan informs you about how abandoned dogs can make great friends. She gives you a website to go on and see many Great Pyrenees dogs that need adopting. I think that she hopes that her note may help find good homes for more dogs.
I thought that this book was dog gone awesome! I recommend it to all children ages 7-12 yrs old. Kids will love to read this fictional story because it is about dogs. This story teaches about the power of an animal's love and how compassion and friendship are important. White Fur Flying is also a Florida Sunshine State Young Reader's Award Finalist book and was written by a Newbery medal-winning author. So if you love a great story, then you should read White Fur Flying!