Fortunately, The Milk
Written by Neil Gaiman
Illustrated by Skottie Young
Reviewed by Jackson R. (age 9)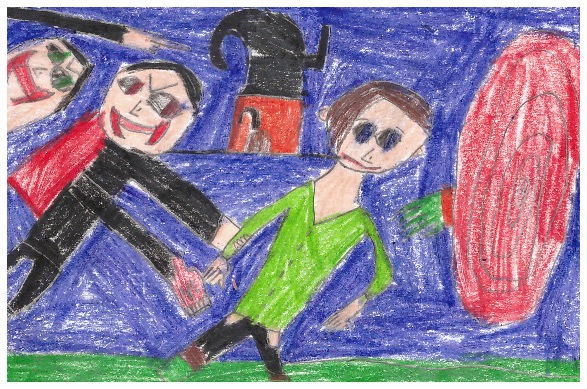 Unfortunately, there is no milk in the refrigerator! But, if you read Fortunately the Milk by Neil Gaiman, check the refrigerator one more time!
This book is about a brother, sister, mom, and their adventurous dad. The brother and sister had no milk in the fridge. They had an orchestra practice in a little bit. Their dad went to the store to buy some milk, but it turned out to be a crazy adventure! He ran into some pirates on a boat and they made him walk the plank. Then, he caught a rope and was able to escape, but then he ran into a dinosaur, and went through a portal and ran into crazy Wumpires.
In addition, my favorite part was when they bump into the Wumpires. This is funny because of how they talk which is very strangely. All words they say start with a V or a W. The boy reminds me of myself because l don't like cereal without milk just like him. It doesn't taste right, because it tastes too crunchy. While I was reading, this book made me wonder if they would get the milk or not. I also wondered if their dad would get past the Wumpires, and if the kids would ever make it to their orchestra practice.
In conclusion, l recommend this book to kids ages six and up. This author has wrote two books that have both won medals. He is a Newberry medalist. Unfortunately this review is over, but that does not mean you can't read the book yourself!