Melvin Beederman Superhero Terror in Tights
Written by Greg Trine
Illustrated by Rhode Montijo
Reviewed by Michael P. (age 8)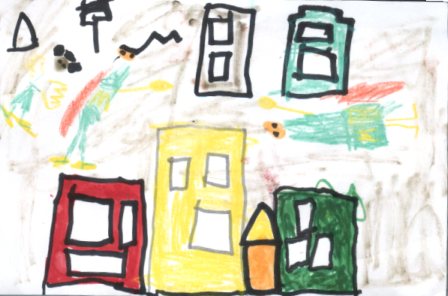 Melvin Beederman Superhero Terror in Tights, by Greg Trine is a funny book. In the beginning, Melvin gets several threatening emails from "SC" a.ka former Super hero Carl. He asks his sidekick, Candace, for help. Meanwhile Carl is on his way to get Melvin on his ship Good Ship Lollipop. First he stops at the Great Hall of Superheroes to steal a cape so that he can have super powers again because the powers are in the cape. Carl can't find Melvin in the big city of Los Angeles so he starts a fire and he pretends he's someone who needs help, so that Melvin will come. The Superhero's Code says that you can never say no to cries of help. Carl has a pile of bologna, Melvin and Candace's weakness, and he starts chasing them out of the building and into the sewers. Candace jumps out of the book and ties up the narrator. She rewrites the scene so that Melvin has a manhole cover to climb out of the sewer. When she gets back she realizes she forgot to untie the narrator. Read the book to find out if they defeat Carl.
Melvin Beederman is one of my favorite books. He is hilarious because one time in the story he is flying and he sees everybody's underwear because he can't turn off his x-ray vision. In the book it says, "Instead of seeing people dressed for work, he saw them in their underwear. Disgusting, he says to himself." My favorite part is when "SC" sends Melvin an email at the library saying, "Roses are red, violets are blue, I'm going to get you if it's the last thing I do." There are excellent pictures too. In one picture, the judge throws a book at Carl, but he ducked and it hit the lawyer instead. That's why I really like this book.
I recommend this book for 2nd and 3rd graders. I know it will make them laugh. The theme is perseverance because even though Carl hit Melvin with bologna, his weakness, he still did not give up.