Owl in the Shower
Written by Jean Craighead George
Reviewed by Jack C. (age 9) & Quinn F. (age 9)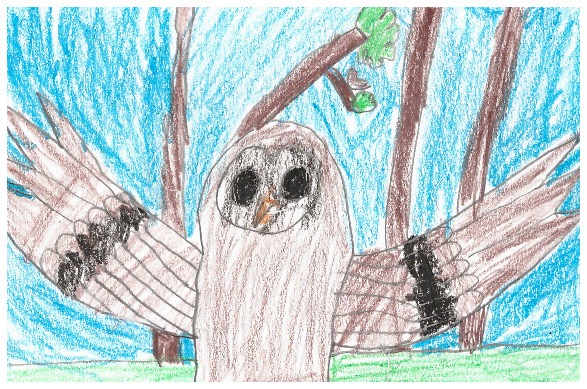 Save the owls! Join Borden, Bardy and Leon on a wild adventure in the story Owl in the Shower by Jean Craighead George.
First, Borden's family is having trouble because his father, a logger, can't work because of a group that was trying to protect spotted owls. Borden is angry and tries to get rid of the owls, but then he finds one, a baby owlet, that is starving. They name the owlet Bardy and the whole family falls in love with him and his funny actions. Borden thinks again about being angry about his father not being able to cut down trees.
In addition, our favorite part was when Borden hopes his dad likes Bardy. But he sees that his dad loves Bardy and they become best friends. One sad part from this book was when Borden's dad got in a fight. It was sad because now he must prove himself to the judge. The happiest part of the book was when Bardy could fly. "He can fly!" shouted Borden and everyone was so excited that he was healthy again. We think you will be excited too!
We recommend this book for ages 9 and up. You will love this book with all your heart just like Borden loves Bardy!