Cabin Creek Mysteries - The Secret of Robber's Cave
Written by Kristiana Gregory
Illustrated by Patrick Faricy
Reviewed by Cararose V. (age 8)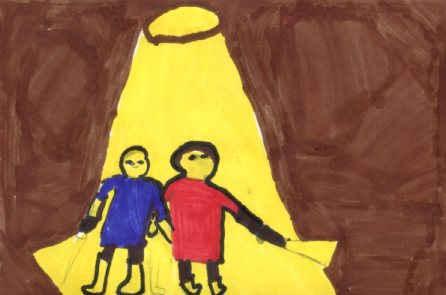 Do you like mysteries? Jeff, David and Claire do! In The Secret of Robber's Cave by Kristiana Gregory, they go on a dangerous adventure in order to solve a mystery. There is an old legend about a robber and a secret cave that they do not know a lot about except from stories their father told them. One thing they do know is that it is a bloodcurdling mystery and that there is a treasure. As they learn more about the legend, they find out that the grandfather of their friend, Mr. Wellback, was believed to have helped the robber escape with the treasure. Jeff, David and Claire want to solve the mystery and clear Mr. Wellback's family name. Read the book to see if they can!
I think this book is very suspenseful because something exciting is always happening. For example, at the beginning of the story when Jeff and David get to Lost Island, their dogs disappear into the woods and do not come when their names are called. It made me wonder why the dogs ran off and where they were going. My favorite part is when Jeff and David go to Lost Island without Claire and then later find her standing on their front porch watching them with binoculars. I like this part because I think it is funny that Claire knew what the boys were doing, even though they thought they were being sneaky. My favorite character in the story is Claire because she is smart, organized and comes up with all the ideas. For example, she put golf balls on her path in a cave so she can find her way back when Jeff and David did not think of this.
I recommend this book to 3rd to 5th graders that like suspenseful mysteries with perseverance because the characters do not give up.