Blizzard on Blue Mountain
Written by Kristiana Gregory
Reviewed by Kristen A (age 8)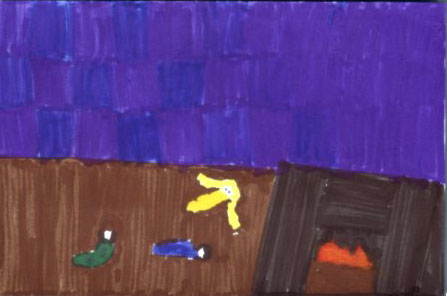 In Blizzard on the Blue Mountain, Claire, Jeff, and David are on Blue Mountain helping Mrs. Allen so they can get free tickets for skiing and snowboarding. But when they get there, things don't go quite as they hoped. Instead someone steals many belongings from Mrs. Allen including a watch she got when she graduated from college, a necklace and her first aid kit. Claire, Jeff and David end up being the prime suspects. When a blizzard hits, they get stuck in the chalet. Read the book to find out who is the actual robber and if they ever get out of the chalet.
My favorite part is when Sophie, a close friend, and Claire are riding in a broken chair lift. The bar is bending down and pulling away from the seat. It's a long drop if they fall. Jeff and David start running toward them. She can't jump off when they get to the landing patch because her arm is stuck. They pull her out of her jacket and she lands awkwardly in the snow. That was fun and exciting. I also like the part when they get stuck in a blizzard because it reminded me of when I got stuck in a blizzard in Colorado. I like how the book shows how unexpected things can be. The author writes a surprise ending.
I recommend this book to people who love mysteries because it is mysterious. You don't find out who is stealing the belongings until the very end. I recommend this book to 2nd through 4th graders because it is a good level and they could understand all the clues to solve the mystery.