Adventure According to Humphrey
Written by Betty G. Birney
Reviewed by Christopher O. (age 9)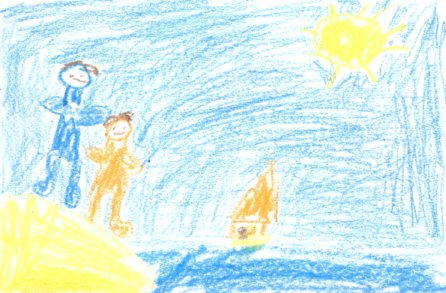 Adventure According to Humphrey by Betty G. Birney is about a hamster who seeks adventure. In the beginning we meet Humphrey, a fun lovable class pet in Room 26. Humphrey is excited about the new boat unit Mrs. Brisbane's students are learning about. They will get to build their own model boats to race at Potter's Pond. They work with their partners on the boats. Kirk and Richie are partners, but Kirk won't let Richie help at all, which gets Richie mad. Gail wants to keep the sail on her boat plain white, but her mom, who is helping the class with the project, is bugging her to be more creative. So Gail is frustrated throughout the project. Meanwhile Mrs. Brisbane is reading Jolly Roger's Guide to Life. Humphrey loves it as much if not more than the students in Room 26. In the end, Humphrey decides to take a nap in Kirk and Richie's boat. He sleeps for so long that he ends up on Potter's Pond in the boat! Read the book to find out if Humphrey will make it back to shore.
Humphrey is clever. I know because he uses the lamp wire as a bridge to get from the nightstand to the bed when he is trying to get a pant sample for Gail. Pets don't usually do that, but Humphrey did. Humphrey is also special. I know because he writes the word squall like all the other students during the spelling quiz. He writes the word in his hamster-sized notebook hidden behind the mirror in his cage. This book is also good because it teaches a lesson about friendship. An example is when Kirk and Richie are having trouble working together and Richie tries to show Kirk that he can race a boat too by bringing a motorized boat to the race which is not allowed. He tries to get his boat to the shore before Kirk does. In the end, when Humphrey is in trouble, they both realize that they had done things wrong and apologize to each other.
I would recommend this book to 3rd to 5th graders who like funny books about animals. Also if you enjoy books about friendship and helping friends with problems, you should read Adventure According to Humphrey.