Fortunately, The Milk
Written by Neil Gaiman
Illustrated by Skottie Young
Reviewed by Emma P. (age 9)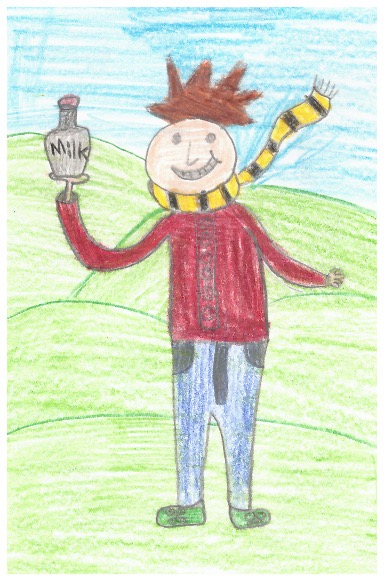 "Where is dad with our milk?" Read this hilarious book called Fortunately the Milk by Neil Gaiman to find out!
To begin with, the book is about two kids. Their mom goes away and their dad has to watch them. The kids do not have any milk for their cereal, so the dad goes to the store to buy some. Then the dad gets abducted by aliens and the dad goes on an adventure to get back home. He has to find an exit door, but he falls onto a pirate ship. Then, he tries to get away from the pirates but they hold him! He has to find a way to escape using a Stegosaurus, but then he still has to find his way back to the present!
In addition, I found the little sister in the story interesting because she plays the violin. I have always wanted to play the violin. The dad reminds me of my dad. He reminds me of my dad because the mom thinks the dad is not paying attention, but the dad is paying attention just like my dad always pays attention to me. This book is like the Berenstain Bears books. It is like the Berenstain Bears because there is a mom, a dad, a brother, and a little sister, just like in this book.
In conclusion, I recommend that boys and girls ages 8-13 should read this book. You should also read this book if you like funny adventure books!