Bad Kitty Gets a Bath
Written by Nick Bruel
Reviewed by Abigail A. (age 9)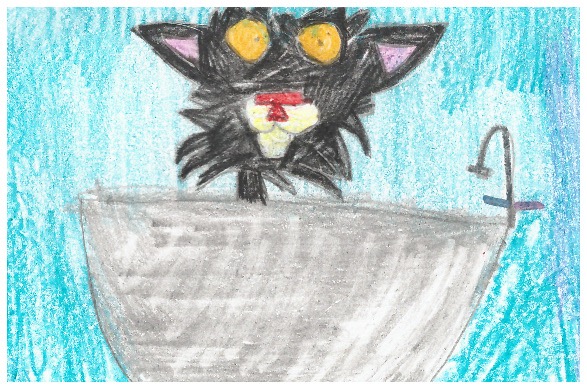 Do you ever refuse to take a bath? Well than you should check out Bad Kitty Gets a Bath! by Nick Bruel.
To start with, Bad Kitty hates to take a bath. For example, when the owner tries to convince Kitty to take a bath, he gets a bunch of scratches and broses. The main characters are Bad Kitty, Bad Kitty's owner and Uncle Murray. Uncle Murray is the smart one. He tells Bad Kitty many things throughout the story. Bad Kitty is the bad one who hurts her owner. Her owner is the one who gets hurt a lot, I feel bad for him! Eventually Bad Kitty decides that she might want to be good though!
In addition, I really liked this book because it is funny and silly. It is funny and silly when the school had to evacuate when a boy tried to lick himself like Bad Kitty. Bad Kitty reminds me of a cat at the store Pet Smart. When I was there, I saw a cat and when I stuck my finger in the hole of the cage, the cat bit me and it really hurt! This book is part of Bad Kitty series. The books are the same because all of the books are about Bad Kitty doing some pretty crazy things and getting into trouble. They are different because some are shorter and some are longer. Also because they all have a different subject.
In conclusion, I recommend this book for ages 7 – 12 because is a silly book for kids to read. I think this is a great book so go find it now!!