The Boxcar Children: The Lighthouse Mystery
Written by Gertrude Chandler Warner
Illustrated by David Cunningham
Reviewed by Matthew K. (age 8)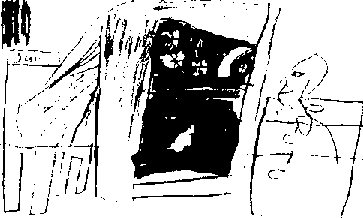 In The Lighthouse Mystery, by Gertrude Chandler Warner, the Boxcar Children find a puzzling note in the sand. In the beginning, the Boxcar Children see a lighthouse for rent. They rent it. Later that evening, they decide to go out and buy some food. They bumped into a black-eyed man twice and a teenage boy gives the Alden's a menacing look. At midnight, a boy was driving a boat around. Watch, the Alden's dog barked, growled and whined like crazy. In the middle, the next day came. The Boxcar Children were eager to make tables out of stone on the rocky shore, so they went to a store and saw the black-eyed man again. In the end, well... I really can't tell you the end, so... Will the boxcar children be able to solve the lighthouse Mystery?
This is a very well-written book because there is a great plot and plans to get to the middle and close to the end of the story. One example of a clue from the story is when a boy on a boat is carrying a pail at midnight, then the boy steps out of the boat and Watch starts growling. It is also great because it leaves you wondering with every chapter, and you can't put the book down. It leaves you wondering because it is strange that every night straight Watch barks and growls at midnight. Lastly, once you get to at least the fourth page you will meet new and mysterious characters and you may find suspicious scenes. A boy about Henry's age keeps on bumping into the Alden's and giving them menacing looks.
I recommend this book to third, fourth or skilled second graders. These middle age students would like this book because it is a very good age fit for them. Also, I recommend it to mystery readers because this mystery is very interesting. Lastly, if you want to read a book with the themes perseverance, honesty, courage, loyalty and cooperation, this is the book for you.