Boxcar Children-Mountain Top Mystery
Written by Gertrude Chandler Warner
Illustrated by David Cunningham
Reviewed by Walter J. (age 9)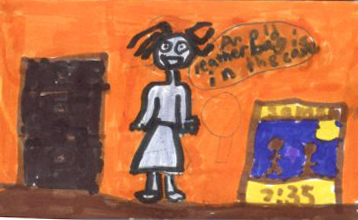 Henry, Jessie, Violet, Benny, and Mr. Alden need to find a leather bag. Benny, Jessie, Violet, Henry, and Mr. Alden go mountain climbing. There is a well-marked path to the top of the mountain. But when Benny slips there is a huge rock slide and then he thinks he sees a cave. In the middle, a helicopter rescues them and they see a house with a light. In that house, an Indian named Lovan told them about a leather bag that had treasure and that was hidden inside a cave at Old Flat Top. So they worked on the cave that Benny saw. In the end, there was an Indian boy named David. He thinks the bag was his. The Aldens walked up the mountain and went into the cave. Then Benny pointed out that one rock looks like a chimney. So they worked on that rock and found the treasure. Mr. Alden introduced David to Lovan and David was related to Lovan. Mr. Alden and Lovan split the treasure money and David and Lovan lived together.
Mountain Top Mystery is a really good book! I like the illustrations because they show the characters feelings. On the cover Benny looks scared because he's about to fall off the mountain and is trying to stay onto Henry's hand. It looks really cool! And Benny teaches kids to never steal. When Benny finds the treasure he doesn't steal it. He gives it to Lovan and she splits the money. And that also teaches kids that if you do something nice, you get something good back. I also like the author's writing style because Gertrude really explains the details in the story. For example, when Benny finds the treasure, I could really picture it in my head.
I would recommend this book to people that like mysteries and adventures. These readers would like this book because Benny starts a rock slide while trying to go down the mountain and sees a cave. Also there is an Indian bag in the cave. Lastly, they find the bag. Those are examples of adventures and mysteries in this book. You should really take some time to read this book!