Ramona and Her Mother
Written by Beverly Cleary
Reviewed by Sasha H. (age 9)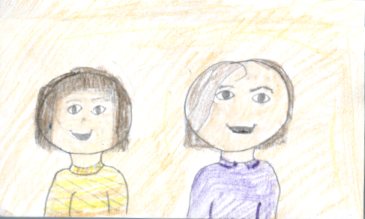 In Ramona and Her Mother by Beverly Cleary, Ramona wants to be her mother's girl but her sister Beezus is. In the beginning Ramona and her family are having a New Year's brunch and Ramona gives her friend's little sister Willa Jean a box of tissues as a present. Willa Jean pulls it out and throws it in the air. When she finished people started to leave. While one person was leaving, she called Beezus her mother's girl. Then Ramona thought "nobody calls me my mother's girl" and wanted to become her mother's girl. In the middle, Ramona's parents had a fight and Ramona's mom hit Ramona's dad with a pancake turner! Beezus and Ramona were so worried that they couldn't sleep. Do you think Ramona will become her mother's girl? Read the book to find out!
Ramona and Her Mother is an amazing book because the author gives a lot of details in the book. The author didn't just say there was paper on the table, she said there was artwork, arithmetic papers and some cartoons her father had drawn. Also, the things Ramona does are funny. In the book, Ramona squeezes a whole tube of toothpaste out of the tube and into the sink! Lastly, the book is realistic. In the book, Ramona wants to be her mother's girl. In real life, that could happen.
I would recommend this book to students with older siblings. I would recommend it to this type of reader because they can understand how Ramona is feeling and why she is feeling that way. Also, they can relate to Ramona. You should really go out and get this book to find out what Ramona does to become her mother's girl!