The Boxcar Children: The Castle Mystery
Written by Gertrude Chandler Warner
Illustrated by Charles Tang
Reviewed by Brandon D. (age 9)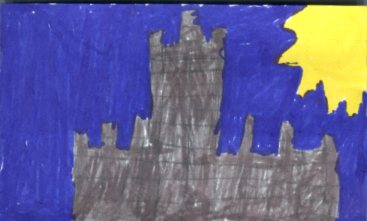 In The Castle Mystery by Gertrude Chandler Warner, the Aldens go to Drummond Castle and almost get in a car accident! When they arrive, they meet Carrie, Mr. Tooner, Sandy, and Torn. The castle is kind of scary for the children. In the middle, the cleaning process begins and some strange things occur. For example, the children learn of the lost and extremely valuable Drummond Stradivarius violin somewhere in the castle. Next, Henry and Benny find Jessie and Violet in a cage! Henry frees them. Can they all solve the mysteries in this strange castle? Read the book to find out.
There are many things I like about this story. I like seeing all the secrets revealed throughout the story. For example, Mr. Tooner shows the Boxcar Children a secret underground cave that leads to the castle. I like the different characters and the way their different personalities link and eventually solve the mystery. For example, in the end, the children agreed to return to a secret room they found and end up solving the mystery. I like that the book is set in a castle. It would not have been entitled The Castle Mystery if there were no castle. The castle is important to the story because the book mostly focuses on it.
I would recommend this book to readers who like fun mysteries that make you read more. This book has a very good mystery that can keep you on the edge of your seat. For example, when the Boxcar Children find a map, they think it leads to the lost Drummond Stradivarius violin! If you would like to discover the stunning end to this amazing book, pick it up and try it out.