Ramona The Brave
Written by Beverly Cleary
Illustrated by Alan Tiegreen
Reviewed by Dorothy A. (age 9)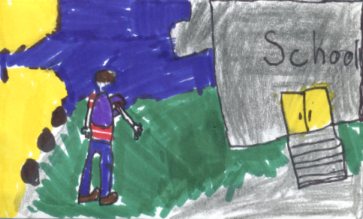 In Ramona the Brave, by Beverly Cleary and illustrated by Alan Tiegreen, Ramona Quimby, a kindergartner, is going to start first grade but she doesn't like it. In the beginning, Ramona and her sister Beezus are at the park when some 5th grade boys started teasing Beezus. Ramona tried to stand up for Beezus but she really embarrassed her. In the middle, tomorrow is Ramona's first day of first grade. She was getting ready. In the end, she woke up and got ready but when she got there Ramona didn't like it. But that night her sister encouraged her into liking school.
Ramona the Brave is an amazing and funny book because I love the way the illustrator draws the illustrations. It just looks like pencil lines but there are great details. I like that Ramona teaches kids to stay strong when being bullied. In the story, Ramona fights the urge to be physically mean to the boys. I like the words Beverly Cleary uses to explain the story. One example is "peace between the sisters could not last".
I would like to recommend this book to kids who like comedies. They should read this book because Ramona is funny and friendly but curious. If you like funny, read pages 46 and 47. What will happen at the end? Get the book and find out!