The Fault in our Stars
Written by John Green
Reviewed by Nora M. (age 11)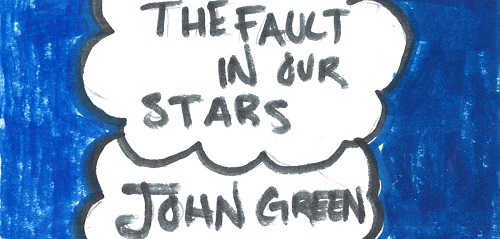 Hazel Grace Lancaster is a beautiful sixteen year old girl who is fighting lung cancer. She goes to support group and meets tons of other cancer fighting teenagers but she only has one real friend Isaac who has eye cancer and is just about to get his second eye removed. He is just about to become NVC! (No Evidence of Cancer).
One day another NVC teenager comes to support group with Isaac named Augustus Waters. During support group Hazel keeps seeing Augustus staring at her. After support group he asked Hazel if she wants to go to his house and watch a movie. At his house they watch V for Vendetta and share each other's real stories and their favorite books (An Imperial affliction and The Price of Dawn). They agree to read one another's favorite books and they both love them. Augustus and Hazel both want to meet Peter Van Houtan the author of An Imperial Affliction. One day Augustus takes Hazel out on a date and tells her that he has not used his wish from the wish granting factory and says that he is going to take himself and her to Amsterdam to meet Peter Van Houtan. When they get to Amsterdam a lot of surprising things happen and they take Hazel and Augustus to an amazing restaurant. When they finally get to meet Peter Van Houtan it does not go as planned. When they come back an terribly sad and horrible tragedy happens.
This book was very happy because Hazel found someone that understood her. It was so hilarious when Isaac made jokes nonstop. I thought it was very romantic when they went out to dinner (there is a lot of romance in this book). This book made me turn into a puddle of tears, it was so sad because of the tragedy. This book is also sad because it because it tells you the truth because a lot of people have cancer.
People who like romance novels would like this book because of all of the romance and people who like funny and sad books should read it. It is suitable for 5th grade and up.