Heir of Fire
Written by Sarah Maas
Illustrated by no illustrator
Reviewed by Iris S. (age 11)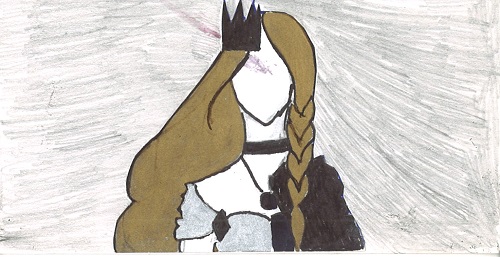 After the events of Crown of Midnight (Sarah J. Maas's stunning second novel in the Throne of Glass series) Celeana Sardothrian, the horrible King of Adarlan's Royal assassin, Finds herself in Wendlyn, a continent across the sea from Adarlan. Wendlyn has magic. That's why Chaol Westfall sent her there, in the hopes, with her Fae heritage, she would be safe. Dorian Halliviard hates his friend for sending Celeana away, but he has more pressing issues. The king, his father, is gathering a dark army willing to destroy the entire world using the Wyrd keys...Celeana needs answers from her cruel Fae aunt, Queen Maeve, sister to Mab and Mora about the Wyrd keys and how to destroy them. But to get those answers, she must go to the Fae capital city, Doranielle, and to get into Doranielle, she must learn to harness her power. Maeve assigns a brutal, formidable, always-angry Fae prince, Rowan Whitethorn to train her. Rowan and Celeana are at each other's throats, but will they make peace in time to defeat the army that the King sent to Wendlyn? In the mean time, Celeana must face her true heritage: Aelin Ashryver Galathynius, lost queen of Terrasen, the only kingdom with a court powerful enough to throw down the King.
Manon Blackbeak, the heir to the Blackbeak Ironteeth witch clan, is in the King's army. All of the Ironteeth are. The King offered them wyverns, non-fire breathing dragon-like-creatures if they were his air cavalry in a war brewing with Terrasen. They haven't been able to fly since the King erased magic from Adarlan, and Manon can't wait. Neither can her thirteen. The thirteen are her coven, her warriors and her sisters. Her Monsters. Meanwhile, Manon must train her small, weak wyvern Abroxos, and is unwilling to give him up due to their bond.
I thought this book was wonderful because A, it's my favorite book in the world, and B, the complex twists and threads of fate weave a beautiful story beyond my capability of imagination. I thought it was sweet when Rowan tells her about Lyria and she tells him about Chaol because it represents the trust between them. It was sad when Rowan pushed her away and she left. It was horrible when Maeve whipped Rowan and Aelin almost had to burn down Doranielle to save him.
I recommend this book for someone over thirteen because it is kind of violent and also for people who like action stories with a bit of adventure, a touch of emotion, and a little bit of love.