The Gym Teacher from the Black Lagoon
Written by Mike Thaler
Illustrated by Jared Lee
Reviewed by Chris H. (age 8)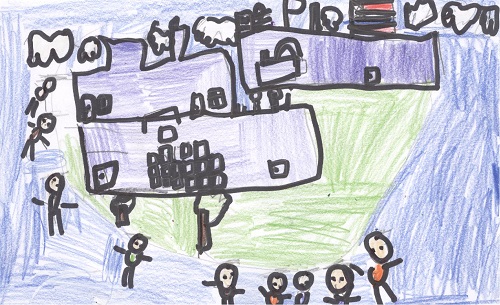 There is an awesome book about a new gym teacher at school. He is not your average gym teacher. He plays dodge ball with his truck. He also makes the kids climb a rope. If you don't get to the top, he sets the rope on fire. There's a rumor there are some kids still up in the ceiling. This fantasy book tells an important lesson that you should not believe everything you hear!
This is a good book because it is funny. I like how the main character acts in the story. He really does some silly things. I like when the gym teacher says that they will play baseball but the boy thinks it will be played with real flying bats.
My kindergarten teacher I was told was really mean. I found out after the first day he was nice. I absolutely think kids should read this book. It has monsters, kids and a really good ending. It is a real funny book.
The illustrations in the book are amazing. They are colorful and detailed. This book has 30 fun filled pages that will entertain the reader. If you want to see what this gym teacher is really about then hurry to the closest library and get this book!