The Boxcar Children
Written by Gertrude Chandler Warner
Illustrated by Likate Deal
Reviewed by Katherine R. (age 8)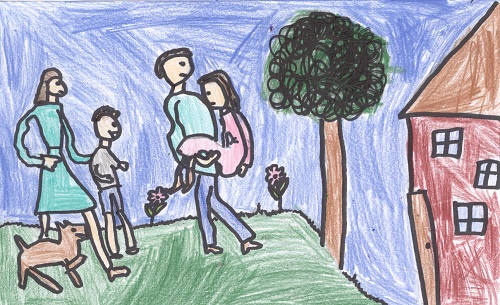 This story is about four children who run away from their grandfather because they think he doesn't like them. They are alone because their parents died. They run and find a boxcar in the woods and Henry, the oldest child, gets a job. One day they find a dog and keep him and another day they hear a queer noise in the night. What is it? A rabbit, bear, burglar? Find out in the first book of The Boxcar Children series.
The characters are like me because I like exploring but Jessie is a lot more like me than any of the other children. Jessie is older than the other two and I'm the oldest. Jessie and I are both girls and we both like cooking and doing other chores. I liked the book because it has an even number of brothers and sisters. There are two sisters and two brothers. My favorite was when Jessie helped a dog with a thorn in its paw. They decided to keep it as a watch dog and Benny, the littlest one, called it Watch.
I think kids 7-11 years old should read this book. There are 154 pages plus the author's page. Also, people who like easy to read, exciting, and fun mystery books. If you like this book, get the others in the series. They're just as great!