Cam Jansen and the Mystery of the Babe Ruth Baseball
Written by David A. Adler
Illustrated by Susanna Natti
Reviewed by student in Mrs. Burnell/Mr. Tompkins' 3rd Grade Class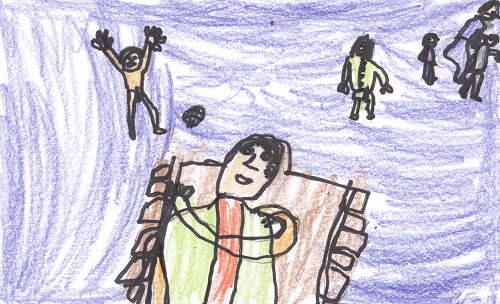 Hey! Do you like mystery books? You should read Cam Jansen and the Mystery of the Babe Ruth Baseball. In the story the baseball signed by the famous baseball player Babe Ruth was stolen. Cam and Eric have to find the baseball. Cam has to use her great photographic memory, and with Eric's help they will hopefully solve the crime. Read the book if you want to find out if Cam and Eric will find the ball.
I like the part when he traded balls with the kids. This story reminds me of when my candy was missing, but my dog stole it all along.
I think children ages 8-9 years old should read this book because it's fun to read. It's exciting trying to find out who stole the baseball by coming across the clues. A child who likes baseball or mysteries should read this book. This is a series so you can read a lot more mysteries like this one. What will interest readers is how Cam finds mysteries with her photographic memory camera.