Kidnapped King, The
Written by Ron Roy
Illustrated by John Steven Gurney
Reviewed by Callie A. (age 9)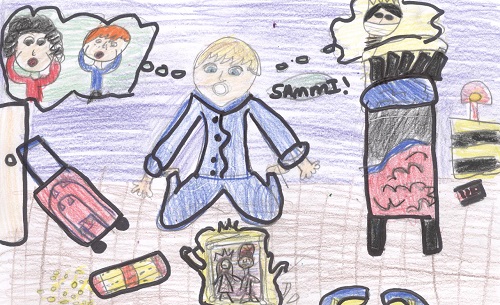 Dink goes to the principal's office to meet Sammy who is staying with his tutor for a year in Connecticut. Next they go to Dinks house and Sammy meet Josh and Ruth Rose. A little while later Dink learns how to say yellow in French. In a few days Dink goes to wake Sammy but he is…… GONE! SAMMY'S GONE! Will Dink Josh and Ruth Rose be able to find him? Read the Kidnapped King to find out.
My favorite part is when they find a clue and Dink remembers in French. I feel that this book is like the Camp Club Girls because they are both mysteries where some people try to solve a mystery without anyone knowing. This book is like other A to Z mysteries because three kids always solve mysteries together. I believe that this book is a great book. I thought about the mystery and wondered who stole Sammy? I would give this book 1,000 stars out of 1,000 stars.
If you are ages 7 to 12 years old read this book! You are going to think nothing bad or sad every happened and you will be happy! I recommend this book because it is a great mystery book. It is a fun book for people who are starting chapter books. The book is only 87 pages. Go get this book at the book store!