Hot Rod Hamster and the Awesome ATV Adventure
Written by Cynthia Lord
Illustrated by Derek Anderson
Reviewed by Joey O. (age 8)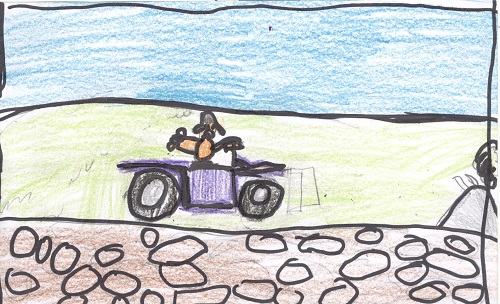 This is an adventure story about Hot Rod Hamster. This funny book is about a hamster and his friends who want to go on an adventure on an ATV. They all choose an ATV to ride and go on a swamp trail for their adventure. If you want to see how that turned out, read this book!
I thought this story was fantastic. My favorite character was the bulldog. It was funny when he stuck his tongue out to catch the wind while driving his ATV. I have a connection with Hot Rod Hamster. I have an ATV and like to go on adventures too with my dad and brother. I think children should read this book because it is interesting and the book is like a comic book. The illustrations are very colorful and keep the reader interested.
Children in who are in second grade will enjoy this book. They can read this story independently because the words are not too hard to understand. If you like animals that ride ATVS then this is a great story for you to read, so hurry and grab it before it rides away.