The Puppy Place Bonita
Written by Ellen Miles
Reviewed by Devonia O. (age 8)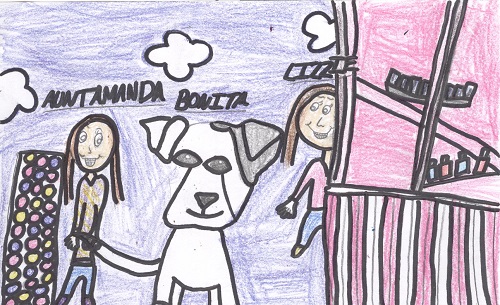 Aunt Amanda is home from a visit to Puerto Rico and she finds a little black and white puppy named Bonita. Bonita is a wild puppy and can be very playful. Oh no! Bonita was hit by a car so her leg is now injured. Her leg will need an operation and it will cost a lot of money. Don't worry because Lizzie and her friends are here to help! They will have their own Dog-a-thon at Aunt Amanda's ( Bowser's Backyard ) to have the fund raiser. But that's not all! A special guest will come to their Dog-a-thon. Who will adopt this little puppy? Want to know more? You'll have to read this book to know.
I liked this book because it was interesting and had several surprises. This book was very detailed and is one of my favorite books to read. Ellen Miles writes great books which take me on adventures. The Puppy Place is a book to entertain the reader! One of my favorite parts of the story was when the dogs were chasing Bonita. It was really funny. Lizzie, a character in this book loves puppies and I am very fond of puppies, too! This book was a special story because the puppy was brave and was one of the best Puppy Place books I have ever read!
I would recommend this book for second grade to fourth grade because kindergarten and first grade would find it too hard. If you want to read a book that makes you smile, this book would be a great choice for you!