Granny Torelli Makes Soup
Written by Don L. Curry
Reviewed by Piper B. (age 9)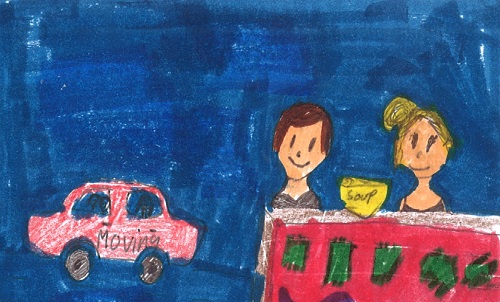 Do you have problems with your friends? Well, read this book to find some solutions from Granny Torelli! "Rosie or Rosie, she's a stubborn girl!" and "Oh, that Bailey boy, that Bailey is Rosie's best friend." Granny Torelli would say. Bailey is Rosie's best friend. Bailey is also blind. Read to find out how they work out issues over his eyesight.
I think this book is cool, because Granny Torelli says things in Italian "Tutto va bene!" It was affectionate when Rosie wanted to see what Bailey sees being blind. This book is sad when Rosie says bad things about Baliey, then was sad about saying them.
Granny Torelli Makes Soup is a great book for anyone from 5-100 years. People who enjoy humor, love to cook and have lots of friends will enjoy this book.