Stink and the Attack of the Slime Mold
Written by Megan McDonald
Illustrated by Peter H. Reynolds
Reviewed by Altin S. (age 9)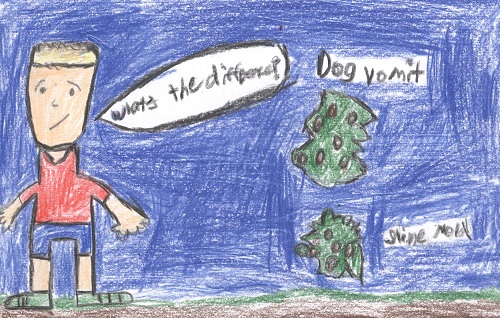 If you like entertainment then Stink and the Attack of the Slime Mold is for you. Stink is a wonderful series for people who like to laugh and who don't like to laugh. The reason I think this could be a good book for people to read about is Stink and his buddies are really awesome. For example, when Stink goes outside with his slime mold in a pool with a blanket and something happens to the slime mold. Oh wait, I can't you, you have to find out on your own. So what are you waiting for? Go ahead and read this book. The author's purpose is to entertain and she's really good at it!
I believe this is a terrific book for people to read. In my opinion, my favorite part is when Stink said the slime mold looked like dog vomit. I thought this was really funny. The character I liked was Stink because he is very adventurous and curious because of the creepy noises he hears in his house. The illustrations really helped me imagine what they were talking about. Finally this book was unique because it is very odd to write about slime molds. This book was very enjoyable and hilarious!
I recommend this book to all kids because there is a bunch of Stink books that will make 7-11 year old kids laugh. I recommend kids and adults should read this book because the whole book is enjoyable. I think this book can interest the reader by Stink having amazing adventures with his buddies.