The Summer Camp From the Black Lagoon
Written by Mike Thaler
Illustrated by Jared Lee
Reviewed by Jayden N. (age 9)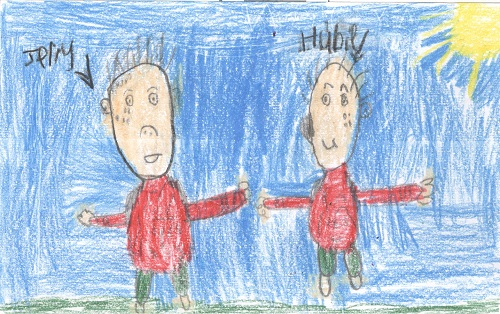 Do you like the series Black Lagoon? Well then, this is a good book for you. The Summer Camp from the Black Lagoon is one of the best! There's all kinds of wacky adventures from the series. There are a few new characters in this book. Buzz, who is a one-eyed camp counselor and Jerry who loves knock-knock jokes. Hubie is the main character and he isn't excited about going to summer camp. He goes through many changes during the summer. If you want to know what happens to Hubie, go read this very good book.
In my opinion The Summer Camp from the Black Lagoon was one of the best books I've read. I liked it because Hubie thinks his mom is sending him away to camp forever. My favorite part was when Buzz told the kids a scary story. In that part one kid got eaten by a monster and I found that funny. I found Buzz interesting because he had one eye. It was cool and scary. I also love Jerry because he loves knock-knock jokes like me. This is why I love this book.
I think other kids should read The Summer Camp from the Black Lagoon because a lot of funny stuff like… Oh wait I can't tell you, so get this book and read it now! The camp might interest you because it is a wacky camp. It has a lot of disgusting stuff, like the food. Kids would enjoy this book because it's a funny quick book and you could even read it in a day! Don't just try this book, try the series! So give it a shot! I really liked this book!