Escaping the Giant Wave
Written by Peg Kehret
Reviewed by Hailey R. (age 9)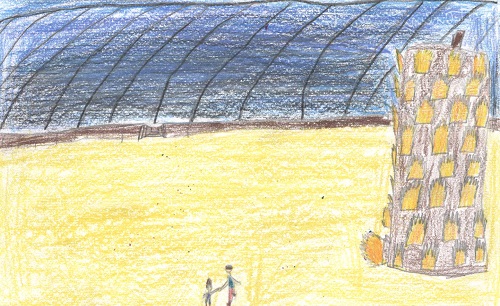 The Davidsons family flies to the Oregon coast for a vacation because their dad wins sales man of the year at his job. When his parents go on a cruise called the "Elegant Empress," Kyle and BeeBee are staying at a hotel. The hotel that BeeBee and Kyle are staying in catches on fire when an earth quake strikes and a tsunami occurs. Kyle remembers the sign on the beach. It said when an earth quake strikes go as high and far as possible away from the water because tsunamis can travel miles and engulf anyone who doesn't escape quick enough. Will Kyle and BeeBee survive? Read the book to find out yourself.
I believe that this is the best book ever in history! It's action packed and feels realistic. It's based off of tsunamis and has real safety instructions to survive a tsunami. You might think they are just a part of the story but they are real instructions. There are just two illustrations. There's one on the front cover and on the back cover. The colors are different shades of blue and a little white. Furthermore, it's inspiring to me in the best way possible. You can clearly see the danger in Kyle's eyes and the tsunami coming on the cover. Besides when I was reading the book it made me feel excited to read more but it made me wonder why Mother Nature allows tsunamis to happen. Clearly Kyle changes because at first Kyle is too scared to stand up to Daren. When Kyle finds out that Daren is bullying BeeBee, Kyle realizes what he went through and gets so mad he finally stands up to Daren. This book is realistic fiction book that could help you in real life.
I recommend this book to kids because it'll get you excited to read more and to find out what happens next. An action packed reader would want to read this book as well as people who like scary books. Also readers who enjoy reading about the world would like this book. I thought that when Kyle and BeeBee try to escape the burning hotel and the tsunami, was exciting and scary. Will they live and continue the story? In the end they'll… wait I can't say, read the book to find out what happens!