Cabin Creek Mysteries - The Secret of Robber's Cave
Written by Kristiana Gregory
Illustrated by Patrick Faricy
Reviewed by Emma S. (age 9)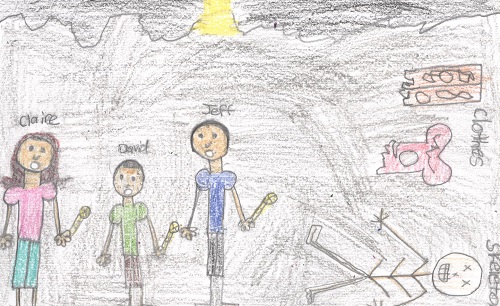 If you like mysteries, you should definitely read The Secret of Robbers Cave! That book is fantastic! There are three cousins Jeff, David and Claire. They go exploring on Lost Island. They find a skeleton in a cave. The skeleton is really… read the book to find out whose skeleton is in the cave. The author may trick you with some red herrings. If you like this book, go check out the other books in the Cabin Creek series.
Honestly this is one of the best books I have ever read! My favorite part of the book was when Jeff, David and Claire found out whose skeleton was in the cave. Awesome!! Clearly I am like David because I love to draw and sketch. I feel awesome because I am like one of the characters from my favorite book. Obviously this isn't like any book I've read before, because this book is much more interesting than other books I've read! For all these reasons, I think this is the best book I have ever read in my life! If you like mysteries, I definitely think you should try this book!!
I think other kids should read this book because it is very interesting and exciting! If you like mysteries and cliffhangers, you should definitely try this book! Honestly any type of reader would like this book because it is that good! I mostly recommend readers 8-12 years old to read this book. All of the red herrings and clues might interest you because they definitely interested me!