The Class Trip From the Black Lagoon
Written by Mike Thaler
Illustrated by Jared Lee
Reviewed by Daniel B. (age 8)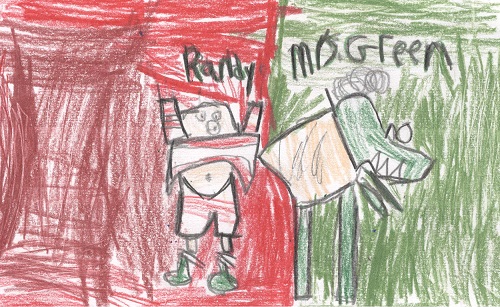 Do you like adventures? If so you should try the book, The Class Trip from the Black Lagoon. It is about a kid named Hubie who goes on a class trip. He goes on a bus ride with a crazy bus driver. Then he gets a plane ride with Mr. Fenderbender. They go to a jungle. Mosquitos as big as count Dracula try to eat them. The author's purpose is to entertain and I really was.
I thought the book was enjoyable. I like the book because Hubie is wonderful and a funny character to read about. My favorite part was when Randy fell in a quick sandbox. I liked that part because Mrs. Green said save it for recess because he fell in the sandbox. This book is part of a series called The Black Lagoon. It is similar to the book The Field Day from the Black Lagoon. Both have silly characters. You may enjoy this book as much as I did.
I recommend this book to people ages 6-10 because I bet they would like the adventures. The type of reader that will enjoy this book are people that like to have a good laugh. This might interest people who like crazy school adventures and who like the jungle.