The True Story of the Three Little Pigs
Written by Jon Scieszka
Illustrated by Lane Smith
Reviewed by Zach S. (age 8)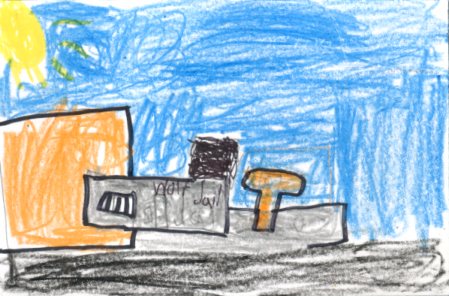 Have you ever read The True Story of the Three Little Pigs? When the wolf was baking a cake he ran out of sugar, so he went to the pig's house. He asked for some sugar. The pig said no. Then the wolf felt a sneeze. The wolf's sneeze blew the house down. Then he saw the pig lying on the ground, so he had no other choice but to eat the pig. He did not get any sugar from that pig. Then he went to the other pig's house and knocked on the door. He said, "Little pig, little pig, can I come in?" The pig said, "Not on the hair of my chinny, chin, chin." The wolf felt a sneeze coming on and that sneeze blew the house down again. The wolf ate that pig, too. Then he went to the third pig's house. Find out what happens to that pig by reading the story.
My favorite part was when the pigs get eaten by the wolf. It was so funny because the pigs were mean to the wolf. This story is different from the original story about the three little pigs. The wolf wasn't the bad guy. He just wanted sugar.
You should read this book because the pictures are really cool. You might like this book better than the original story called the Three Little Pigs. You may also learn a lesson!