Spiderwick The Field Guide
Written by Tony Diterlizzi
Illustrated by Holly black
Reviewed by Aiden W (age 9)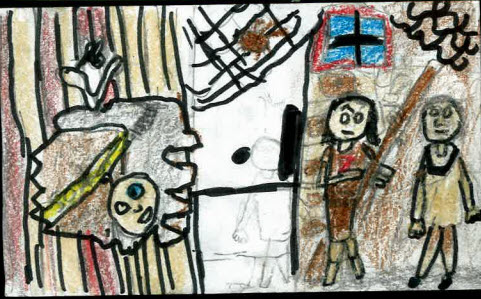 The Spiderwick Chronicles - The Field Guide is an intriguing story about a young boy named Jared Grace. When he moves from the city to a very unordinary house, he begins to despise it. That night his brother, Simon, and his sister, Malory, discover a dumbwaiter so they send Jared up to the attic to explore. When Jared discovers some secrets they all have with one unordinary riddle, his whole life changes. What he finds, sends him on an adventure to solve his great uncle's riddle. Read to find out if Jared uncovers the secrets to his uncle's riddle!
I loved the way the author described every page of the book. He gave me so much detail, that he made me want to turn every page.
My favorite part was when Jared's sister used a broom to break the wall to get the squirrel out. It really turned out to be a mythological fairy called a boggart. My favorite character was Jared becuse he is noble and curious and he never stopped believing in the impossible.
I recommend this book because it's ending makes you want to read the sequel. I recommend this book for third and fourth graders. Holy Black and Tony DeTerlizzi are outstanding authors.