The Last Holiday Concert
Written by Andrew Clements
Reviewed by Kate P (age 9)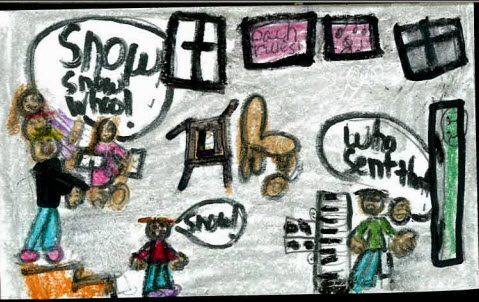 This is an amazing book by my favorite author Andrew Clements! In my mind I think Andrew always has a (or 1) teacher and kid who are sort of enemies. Usually the kid messes and makes the teacher blow up in anger!! In this story the teacher is Mr Meinhart and the kid is Hart Evans. He shoots a "number 16" rubber band, and it hits Mr. Meinhart's sweater. Mr. Meinhart marchs Hart down to the principal's office, and he gets after school detention! Soon something happens, Hart gets voted to be the director of the courses's HOLIDAY CONCERT!! Find out what happens in Andrew Clements's The Last Holiday Concert.
I absolutely loved this book. I liked it when Hart started the whole book by shooting rubber bands at Mr. Meinhart. It really took me in and sort of turned me around. I think though, it gave me just barely enough details.
I recommend this book becacuse I think Andrew Clements did a fantastic job with the WOW factor! I guess this book is for a 2nd - 4th grade level. It does have some tricky works, but was just fine for me. Enjoy!