Waiting for the Magic
Written by Patricia MacLachlan
Reviewed by Reagan M (age 9)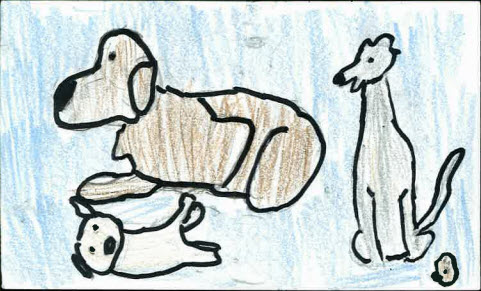 When William's dad leaves, the mom goes to the pound to add a dog to their family. Unfortunately, they can't decide which dog, so they get all of them! Elinor dresses Lua the cat like a princess baby. William thinks nothing can replace their dad. Do you think the family will get back together?
I loved the book Waiting for the Magic because there are so many dogs in their house, and William and his mom are not stressed out about all of those dogs. And that's happy, right? My favorite character is Bitty. She's a jealous dog. In the story, the dad says if Bitty could roll her eyes, she would. After that, Bitty says in her mind, "EXCUSE ME! I thought your were the story teller!" My best and favorite part of the story is when the grandma wants to knit the dogs a sweater...and Bitty wants blue! I love this part because of Bitty's reaction to grandma knitting a sweater.
I recommend this book because it really dragged me in and spit me out. I love that the dogs can talk in the story, and I think that Amy June Bates did a good job!!