Ivy and Bean
Written by Annie Barrows
Illustrated by Sophi Blackall
Reviewed by Addie A. (age 7)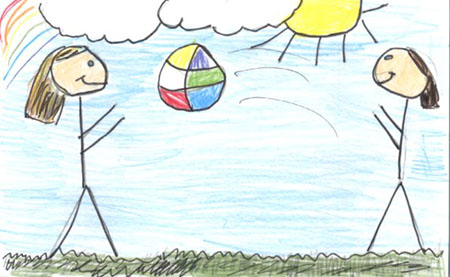 Looking for an awesome book? I have the perfect one for you.
This book is about two seven year old girls named Ivy and Bean. In the beginning, the two girls thought they would never be friends. But when Bean plays a trick on her sister and has to hide, Ivy comes to the rescue. The next thing you know Ivy and Bean are playing together just like best friends would. They play hopscotch, soccer, spies and lots of other crazy games, like zip lining! This book is part of a series and each book in the series has a different adventure. Read the series to find out what happens to Ivy and Bean.
This book reminds me of Frog and Toad because Frog and Toad go on adventures just like Ivy and Bean. This book made me feel like I was in it because the author used very good descriptions in a way I could understand. This book relates to my life because my friend and I do things together like Ivy and Bean. My friend is like Bean because she makes everything hilarious. I'm like Ivy because I keep her in order and I always have my face in a book.
I would recommend this book because it is hilarious and easy to understand. Also, it is full of fun. It teaches you to do things that you should and shouldn't do.
I would recommend this book for ages 4 to 10.