Anne of Green Gables
Written by L.M. Montgomery
Reviewed by Grace K. (age 8)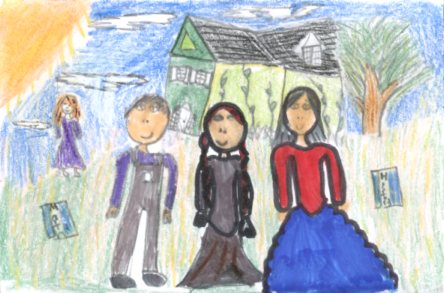 Have you ever had someone not care about you? The book Anne of Green Gables by L.M. Montgomery is about a girl named Anne who finds a new family. In the beginning, Anne pleads desperately to Marilla and Matthew Cuthburt to keep her instead of going back to the orphanage. Matthew likes Anne and how sweet Anne is but Marilla doesn't, especially when Marilla was expecting a boy. Overnight, Marilla decides to keep Anne! But of course, there are very strict rules. Later, Rachel Lynde, Marilla's best friend, comes over and recommends school and a tea party for Anne, to make friends and learn. Anne meets Diana. When Anne goes to school, she meets friends and enemies and soon becomes very smart and can even spell better than anyone else in the class. But, Anne competes with Gilbert, her arch enemy. You'll have to read this book to find out what will happen with Anne and her new life at Green Gables, her home.
In my opinion, Anne of Green Gables by L.M. Montgomery is a wonderful book! First of all, Anne, the main character is very talkative. For example, Anne couldn't stop talking when she and Matthew saw cherry trees on their way to Green Gables. Another reason is that the book just has you hooked from the first magnificent word. From the moment you get started you just can't put the book down. In addition, the book teaches you how important it is to do well in school. Instead of not doing your homework or sitting being lazy, it might just come in handy that you can spell chrysanthemum correctly. All in all, I think Anne of Green Gables is a book you won't want to miss.
If you're in the mood for excitement and elated moments then I think you'd enjoy L.M. Montgomery's Anne of Green Gables. Do you like reading books with adventure? I'd give this book 5 out of 5 stars for the moments it makes me laugh and cry. I'd recommend this book to someone who enjoys a lot of jubilant moments and someone who can cherish the magnificent friendships. Trust me, you are going to want to read the whole series once you finish this book, Anne of Green Gables.