Ricky Ricotta's Might Robot vs. The Jurassic Jackrabbits from Jupiter
Written by Dav Pilkey
Reviewed by Jake N. (age 9)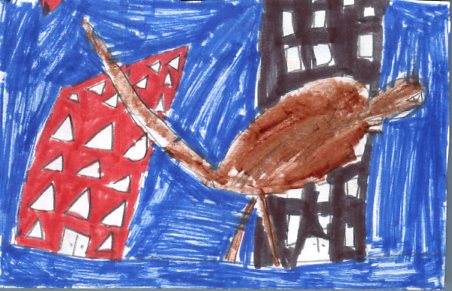 I loved Ricky Ricotta's Mighty Robot V.S The Jurassic Jackrabbits From Jupiter By Dav Pilkey! Let me tell you about it…Today is Ricky's birthday and his cousin Lucy is coming. But way off Earth on Jupiter is an evil Jackrabbit named General Jackrabbit that wants to take over Earth. General Jackrabbit sees Ricky's mighty robot. He creates dinobunnies to destroy the mighty robot so he can take over Earth. Then the dinobunnies start destroying a city. Meanwhile Ricky and his mighty robot are flying over the city regularly. Then Ricky's mighty robot and the dinobunnies meet. Then a fight starts and the dinobunnies are stronger. They hold Ricky's robot hostage and Ricky is trying to save him and…well you'll just have to read to find out what happens!
In my opinion, Ricky Ricotta's Mighty Robot vs. The Jurassic Jackrabbits from Jupiter is the best book I've ever read! To start with, it has hilarious text details and pictures! Second, the story is about an adventure of a mouse and robot that fight crime every now and then. Last of all, because there are dinobunnies! I liked the dinobunnies so much because they were like a morph of dinosaurs and bunnies, which was cool! My favorite part was when the dinobunnies turned small and were so cute.
I recommend this book to people who love adventure and funny Stories.