Diary of a Wimpy Kid
Written by Jeff Kinney
Illustrated by Jeff Kinney
Reviewed by Cole L. (age 8)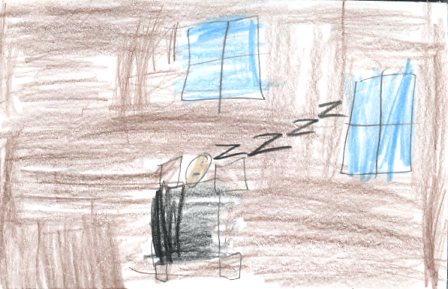 The book I am reviewing is Diary of a Wimpy Kid by Jeff Kinney. It is about a boy in middle school. Greg is not a fan of school. He's more of a fan of sleeping. Greg has a problem… A LOT of problems! He has a friend named Rowley and a brother named Rodrick. Rowley talks out loud and EVERYONE hears. Rodrick teases Greg. There is a massive problem and I will tell you…After you read the story.
I liked this book because Greg has the weirdest family. Rodrick puts his underwear on the kitchen table. Manny (the youngest child) dumps whatever food he doesn't finish in the toilet. If any teenagers come by on Halloween, Mr. Heffley will pour water on them. My favorite character is Rowley because he's funny. He doesn't tell jokes meaning to be funny, but he says weird things that make me laugh.
I recommend this book to people ages seven and older and people who like drama.