Karen's in Love
Written by Ann M. Martin
Illustrated by Susan Tang
Reviewed by Sonia B. (age 8)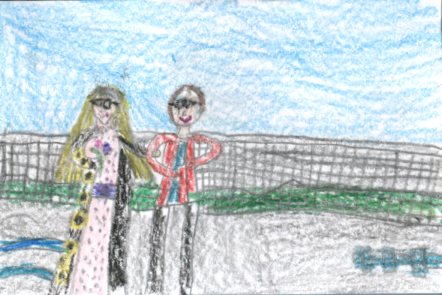 Have you ever had a crush on someone? The book Karen's in Love by Ann M. Martin is about a girl named Karen who is in love with a boy named Ricky. At first, Karen was in love with Ricky and they all had to go to a mean girl's birthday party. All of them want to get the birthday girl Pamela something really gross as a present. Next, they have to go to the party. Karen got Pamela plastic bracelets. Everyone else brought something really nice and dressed up but Karen wore sweat pants and a sweat shirt. Last but not least, Karen and Ricky get in a big fight. Find out if Karen and Ricky make up or break up, when you read this book.
In my opinion, Karen's in Love by Ann M. Martin is a great book! First of all, Karen, the main character, is proud. She is always trying to ignore people. For example, she ignored Ricky when he asked her what was wrong. Another reason the book is so great is because there is action! Ricky had smiled at Pamela and Ricky got Pamela purple suspenders and Karen called him a traitor because she was expecting a snake! In addition, the book teaches you to do what you want to do. At first, Karen and Ricky agreed to get gross presents for Pamela but not everyone did it. All in all, Karen's in Love is a book you will want to read.
If you like love and relationships then you'll enjoy reading Karen's in Love. Do you like realistic fiction? I give this book five stars for entertaining me with love and relationships. If you have ever had a crush and wanted to get married then this is the book for you! I highly suggest you read Karen's in Love by Ann M. Martin. You won't want to put it down once you get started!