Lily's Purple Plastic Purse
Written by Kevin Henkes
Reviewed by Chloe C. (age 9)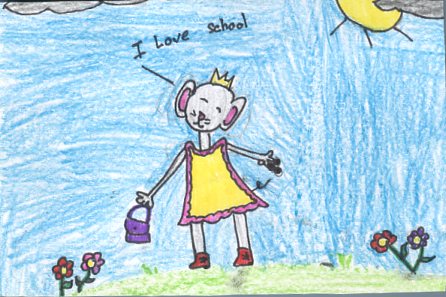 I am reviewing the book Lilly's Purple Plastic Purse by Kevin Henkes. This book is a picture book and it has 30 pages. It is humorous and funny. The lesson in this book is growing-up. This book is about a mouse named Lilly and she loves school. She loves her teacher even more. Lilly wants to be a teacher when she grows-up. The next day Lilly comes back with three special things, a purple plastic purse, glasses and three shiny quarters. Lilly really wants to show everyone her new things, but her teacher Mr. Slinger keeps saying not right now, later. Lilly does not listen at all. Then Mr. Slinger does something to Lilly and she gets really, really, really mad! UH-OH! What did Mr. Slinger do to Lilly? … Well you will just have to read the book to find out!
In my opinion, Lilly`s Purple Plastic Purse by Kevin Henkes is an awesome book. I like how the book teaches you a lesson through humor. First of all, Lilly is a funny character. Once she wrote a story and it said … "and at the very last second Mr. Slinger saved the cold starving elderly …!" One of my favorite parts is when Lilly pretended to be her teacher, Mr. Slinger at home. "I Am The Teacher," Lilly said to her baby brother, LISTEN UP!!!" I like to play school at home too with my little sister, but I'm always the teacher. I'm much nicer than Lilly was when I'm the teacher!
I recommend this book to readers who like to read books that are hilarious and funny. If you do this is the book for you! I would give three thumbs up if I could!!!