Stink and the Shark Sleepover
Written by Megan McDonald
Illustrated by Peter Reynolds
Reviewed by Claire C. (age 8)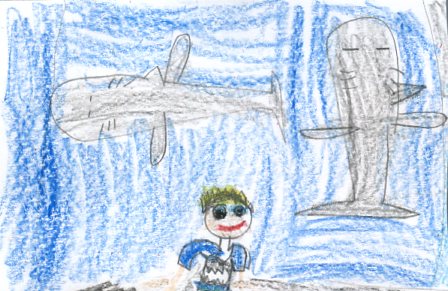 Have you ever been to an aquarium sleepover? Stink has! -- In this book Stink and the Shark Sleepover by Megan Mc Donald and illustrated by Peter H. Reynolds. Stink's parents win a trip to the aquarium for the whole family. At the aquarium Stink sees cool sea creatures but most of all Stink really wants to see sharks. Before Stink goes to bed Stink gets told a scary story called Bloody Mary. Bloody Mary is a vampire squid. Stink decides to go the room where Bloody Mary is to get a hermit crab. Stink thinks the hermit crab got eaten by Bloody Mary. Did Stink get the hermit crab? Well you will just have to read to find out.
In my opinion, the book Stink and the Shark Sleepover is a hysterical book. First of all, when Stink's parents won the tickets to the aquarium, Stink ran upstairs and took all of his shark stuff. Also, when Judy was asleep, Stink and Webster put deodorant under Judy's nose. This was funny because Judy would get really mad. Last of all, my favorite part was when Stink got to see the sharks. This was my favorite part because Stink had been waiting to see the sharks the whole and he finally go to.
I recommend this book to kids who like the Judy Moody series and also I recommend this book for ages 7 and up.