James and the Giant Peach
Written by Roald Dahl
Illustrated by Quinton Blake
Reviewed by Linnaea H. (age 15)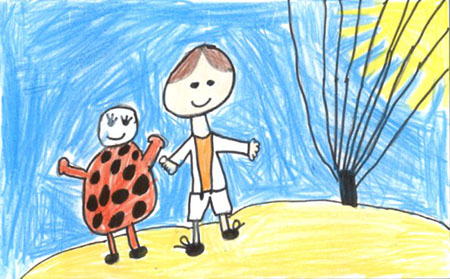 Hey happy readers! If you want to lose yourself in a book, you should read this book.
After James' parents get eaten by a rhino, he has to go live with his aunts. He drops a few crystals by an old peach tree. An adventure begins! First, he meets some over-sized insects. For example, he meets a ladybug that is as big as him! He also meets an earthworm who is blind, and a centipede who cares a lot about his boots! There's a grasshopper who can play music and a spider who makes the beds. He meets a lot of friends. He even ends up being a life saver! Who will he save? Read this book to find out.
James is an awesome character. He is smart and kind. I also like this book because he goes on great adventures! Lastly, I like this book because it is so funny. The characters I disliked were the aunts. They were very mean to James. The illustrations seemed real. The book made me feel happy when the peach squashed the aunts. The book is very similar to other Roald Dahl books.
I would recommend this book to anyone who likes good stories. This book will make you laugh. I also recommend this book because the characters are great! Lastly, I like this book because James goes on great adventures.
Linnaea rates this book a 5 out of 5 stars.