Captian Underpant And The Terrifying Return of Tippy Tinkletrousers
Written by Dav Pilkey
Illustrated by Dav Pilkey
Reviewed by Sebastian S. (age 7)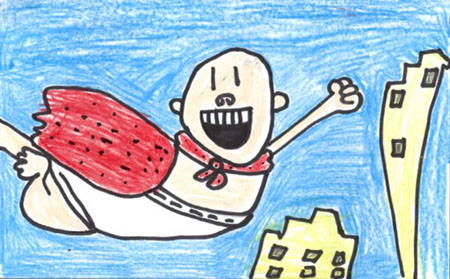 In this book, George and Harold get sent to jail by mistake. It was their evil clones that rob a bank not them. Read this book to find out what happens next.
I give this book a big thumbs up. First, I thought it was funny when George pretends he is Indiana Jones. Also, it was neat when the story talked about what happened when George and Harold were in Kindergarten. Finally, it had tons of action, pranks, and laughs. For example, the bad guy is named Tippy Tinkle Trousers. As you can see, this book is worth reading.
I recommend this book to everybody who likes a good laugh because one of the character's last name is Beard, no joke! This funny book would be good for 5-9 year olds and maybe even grown ups who like to laugh.